Yana Trail
shuttle
OVERNIGHT BACKPACK
---
8.9 miles 750' elevation gain
best season:
late Mar-Apr
but not if snow below:
500'

---
1:10 drive
dogs welcome
---
April 2022
The new Jellys Ferry Bridge (over the Sacramento River) is now open (one lane). It is beautifully designed with architectural detail in color and patterns complementing the landscape
The Sacramento River Bend Area is former ranch land now managed by the US Bureau of Land Management. On our public's behalf, BLM is removing fences and converting old 4WD routes to trails.
It may be the best winter-time hiking area in the North State.
This hike follows the river, climbs gently up bluffs, and drops into creekside valleys. Fine views, on clear days, of Lassen Peak and Mount Shasta.
---
The ford of Inks Creek is probably impassable for a couple days after major storms. It is usually easy a week after storms. In between use your judgment and do not underestimate the power of flowing water. There is no automated gauge of the flow of Inks Creek.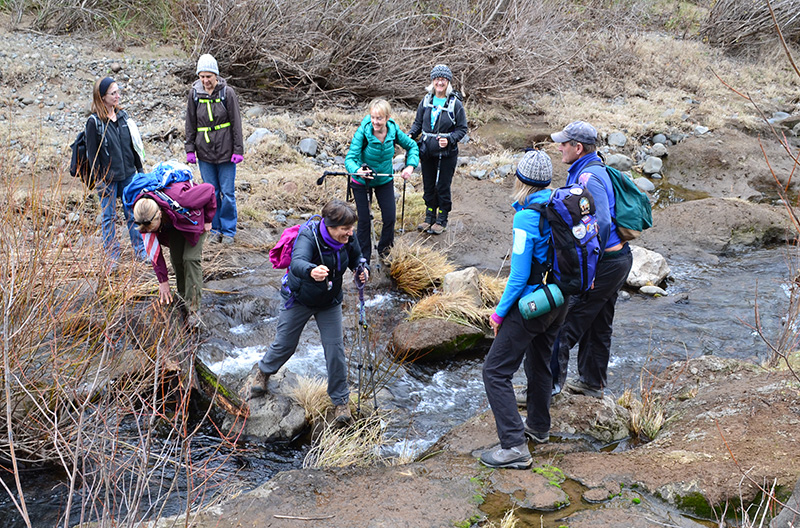 Inks Cr Ford Jan 3, 2016
---
Separately, the Sacramento River backs up and floods the trail at Inks Creek Ford at River Stage 9.0-feet. Camp Gulch floods from river backup at 9.0-ft. Check this automated river gauge for current reading: Sacramento River at Bend Bridge
---
About May 1st the grasses go to seed (stickers in your socks), and in that season are a lot of flies and mosquitos near the creeks and river.
This hike is in Sacramento River Bend Area; owned by the public, managed by Redding Field Office of Bureau of Land Management. Backpacking welcomed.
Calif. Campfire Permit required for backpacking stoves and campfires. Redding Bureau of Land Management campfire restrictions here
Nights are perhaps too long for hiking on the winter side of the solstices, so we recommend this trip after the Spring solstice

Yana Camp campsite
---
---
Street View of trailhead
starting trailhead
ending trailhead
---
Maps

Avenza version

Adobe PDF version

KML track of hike